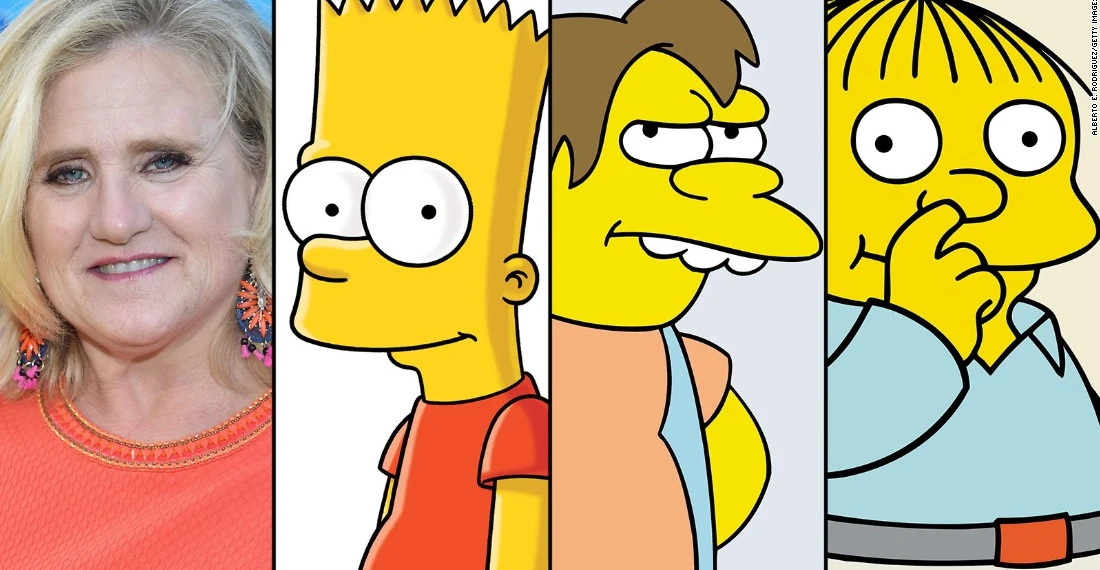 NANCY CARTWRIGHT'S VOICE-OVER ADVICE: FINDING YOUR VOICE
Continuing with the "Voice-Over Series" that were originally published in Animation World Magazine, Nancy Cartwright discusses the most important issue in voice acting, "Finding Your Voice".
Your whole life you have been told that you:

have an unusual voice.
sound like Donald Duck/Homer Simpson/A Powderpuff Girl.
should get paid for doing all the annoying things you do with your voice.
any or all of the above. Congratulations! It sounds like you are perfect for the voice-over industry!

Ever since I was seven years old, people told me that I had an unusual voice. When I think about it now, that just seems like an incredibly personal, if not judgmental, thing to say to a child. I suppose I could have just stopped doing whatever it was that fascinated people. After all, unusual can have a somewhat condescending hint to it, right?

For whatever reason, I never took offensively. In fact, I started to use my voice: manipulating it, squeezing it, dropping it, tightening it, doing whatever I could whenever I told a joke or a story, and it worked. They laughed. So, I did it some more. I found what worked for me, and I continued to entertain my friends and adults alike with my unusual voice, simply because it made them laugh, which made me feel good about myself, by the way.

We lived in suburbia. America station wagons, Catholic school, kick-the-can at dusk and drive-in movies. As a young girl, I had very short hair. My mom had this idea that short hair was easier to care for, so about every six months or so, coincidentally about the same time we went to the dentist, my sister and I would go with my mom into downtown Dayton, Ohio, to get our pixie haircuts. We looked forward to taking the bus, and at the ripe old age of seven, riding the bus into downtown Dayton was an adventure in itself. The only thing that I did not like was when the razor blade was not new. That would hurt. Other than that, everything was fine and dandy. Oh wait! There was one more thing. Everyone thought I was a boy!

Okay, so here we have a seven-year-old girl with an unusual voice, who everyone thinks is a boy! No problem! I decided to make lemonade. That's right. It never bothered me that the old man at the butcher shop called me "Sonny". It never bothered me that the woman who worked at the post office said to me, "What can I get you, son?" I just thought everyone in my hometown needed glasses.

As I continued to find my voice, I chose activities that made me happy. I found that this was a very smart thing to do. My parents were supportive, and that is something that I never took for granted. Having six kids in eight years proved to be a very active household, yet somehow, we all managed and were encouraged by our parents to find our own skills, hobbies and interests. From acting, painting, music and sports, the Cartwright kids did it all. I was never labeled as a geek, a jock or a thessssssssssssssspian because I got myself involved in as many activities as I could handle and I did what I loved.

When I was young, I did not really know where I was headed. I just knew I wanted to have fun getting there. So, I competed in gymnastics, played the trumpet, French horn, baritone and acted in community theater and the class plays at school. I know it sounds like I am tooting my horn, (no pun intended) but by the time I was 16, I finally latched on to a group I could call my own. It was one that I admired from afar for some time. It was the speech team.

I had heard that high school had a cool speech team; and because I loved the idea of telling stories and jokes that made folks laugh, well that was it for me. I joined the forensics team and eventually went on to win the national district competition two years in a row at Ohio University, giving me a scholarship where I competed on the university's team. I was in heaven. On my critique sheets, the judges would often say things to me like, "Kid, you've got an unusual voice! You should do cartoons!" Ha! The seed was planted in my mind, and I was off and running with it!

My point? Find your niche. In the voice-over industry, there are many avenues to choose. From broadcast news, commercials, sports reporting, animation, public speaking, narration, CDs, loop groups, merchandise and audio books, there are many options. The key question here is, Where do personally you fit in? Ask yourself, "What actions really show off my passion?" When you can ask yourself that, you have taken the first step to loving your career, and ultimately loving yourself for the choices you make.

Back in 1977, when I put together my very first demo tape, truthfully, I had no idea that such an animal as a demo tape even existed. It just made sense to me that if I wanted to get a job in cartoons that someone was going to want to actually hear what I could do. So, I put together a 13-minute tape (yes, you read that right: a 13-minute tape!) that demonstrated some of the characters I did in my competitions during high school. (For you newbies reading this, a demo tape need only be about two minutes long.)

When I listen to a demo tape now, I can tell in about 10 seconds whether this person has the chops it takes to compete in this very competitive industry. Regardless, a tape needs to be just long enough to give the listener an idea of your cleverness and versatility. Anyway, I sent my first demo tape out and received a letter from a fellow who worked at Hanna-Barbera. He told me five things:

You are never going to get anywhere in Ohio.
You are never going to make it with just one voice.
You need to study your craft.
You need to take singing lessons.
There are not as many jobs for women as there are for men.

Okay, here is the deal on this. I could have just as easily looked at this advice and crumbled up the letter and gone back to scooping ice cream. Instead, I saved the letter as a reminder that no matter what anyone said, I would continue to pursue my dreams, making choices that forwarded my goals, all the while strengthening my purpose for making people laugh. Low and behold, within a couple of years, I had moved from Dayton to Los Angeles to begin my tutelage under pioneer Daws Butler—veteran voice actor most well-known as Huckleberry Hound, Yogi Bear and Quick Draw McGraw.

I made a decision that I was going to do voice-overs for cartoons and no matter what some muckity-muck from Hanna-Barbera said, it was not going to stop me! And It didn't!

Saving that letter proved very satisfying to my morale when I was called for an audition and the name of the casting person rang a bell. Sure enough, it was the same fellow who had written me that letter all those years earlier. I showed up at the audition, letter in hand, and waited to be called. When my time was announced, I went straight up to him and handed him his letter! "What's this?" he queried. "That is a letter you sent me three years ago. I saved it." He glanced through it rather quickly and then responded, "Wow, I wrote you two whole pages. You must have done something right."

I did. I believed in myself and I didn't give up! Now, I travel the globe giving inspirational lectures to university students about how I created "my life as a 10-year-old-boy". I was also invited to perform my one-woman show also entitled My Life as a 10-year-old Boy, which premiered at the Edinburgh Fringe Festival last fall.

I encourage you to begin your journey in finding your voice by doing the following:

Take classes. There are plenty out there. Do research to find the best ones.
Read books on the subject. There are plenty of them too. Start your own research library. You will refer to the books later on, I promise. I have.
Listen to the radio commercials. Buy audio books and listen with the volume turned up to hear the nuances. Observe how subtle the voice characterizations are on CDs and how vast and varied they are on television. You can actually make a living with one voice. Gary Owens did it for years. So did Lorenzo Music. Yeardley Smith is genius as Lisa Simpson and has created an indelible sound that will live forever in history.

And then there are the greats who have taken their skills to highest echelon by creating hundreds of different characters and yet are unsung heroes in the voice-acting profession: Robbie Paulsen, Tress MacNeille, Jess Harnell, Cory Burton, Frank Welker, Pat Fraley, Kath Soucie, E.G. Daily, Tara Strong, Maurice LaMarche, Jeff Bennett, Dee Baker, Candi Milo. These are a sample of the dedicated professionals who have found passion in what they do and have rolled up their sleeves and found their own voices.

Finally, know that your career choice is your passion as that will ultimately determine what your voice really sounds like, and where you want to go with it. Without passion, you might as well just pack your bags and move back to Ohio!